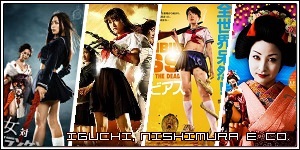 Come promesso, nuovo appuntamento con l'arte di Noboru Higuchi, ancora una volta offertavi con la collaborazione di FilmBrutti.
Zombie Ass, distribuito anche col titolo "Toilet of the Dead", racconta l'avventura di Megumi, timida liceale dalle tendenze yuri che, ancora traumatizzata per il suicidio della sorella, vittima delle bullette della scuola, accetta di fare una gita con la sua senpai Aya, il di lei fidanzato tossicodipendente Take, il secchione Naoi e Maki, popputa ragazza disposta a tutto pur di dimagrire e diventare una modella, compreso ingoiare una tenia per non assimilare il cibo ingerito.
Ma Maki finisce per ingurgitare la larva di un micidiale parassita alieno allevato in uno sperduto villaggio dal Dottor Tanaka che, essendo la simbiosi con lo scarafaggione l'unico modo per tenere in vita la figlia Sachi, non solo gliene caccia in gola uno dopo l'altro, di dimensioni sempre maggiori, ma ha contaminato tutta la popolazione, trasformandola in un'orda di zombie ghiotti di sterco che emergono da pozze maleodoranti e vanno in giro a lanciare manate di merda mentre i vermoni si fanno strada nel loro corpo per uscirgli dal sedere, annunciati da salve di mefitiche scoreggie.
Vi basta?
Higuchi non delude mai e noi lo amiamo per questo. Enjoy!