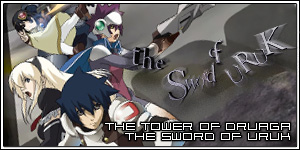 The Tower of Druaga: the Sword of Uruk – SUB ITA

Fregati di brutto da Kaaya e Neeba, i nostri eroi sono tornati a casa con la coda tra le gambe. Re Gilgamesh si è preso il merito dell'uccisione di Druaga ed ha spostato la capitale a Meskia. Kelb ha lasciato l'esercito per protesta e adesso gestisce una locanda. Fatina fa la guida in quel parco divertimenti che un tempo era la Torre ed è ospite di Kelb assieme ad un Jil in depressione cronica.
Nel tentativo di tirarsi su i due vanno al luna park dove incontrano Ki, misteriosa e pestifera bambinetta sulle cui tracce ci sono i Cavalieri Dorati, la guardia personale del Re.
Sfuggiti agli inseguitori grazie all'aiuto di un vecchio amico, i nostri ricevono da Ki una richiesta che risveglia vecchi ricordi in realtà mai sopiti.
E' l'inizio di una nuova avventura!
Anno: 2009
Produzione: GONZO
Numero Episodi: 12
Traduzione e Adattamento: Spawn
Quality Check, Raw, Encode: GNN
Timing: lachesis
Karaoke: name
Autorun: xiVi