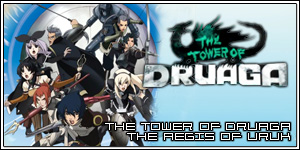 The Tower of Druaga: the Aegis of Uruk – SUB ITA
Durante l'Estate di "Anu", che cade ogni cinque anni, i demoni della misteriosa Torre di Druaga perdono i loro poteri per via dell'incantesimo fatto dal Dio chiamato "Anu". Re Gilgamesh, sovrano del Regno di Uruk, usa la presenza dei demoni come una scusa per invadere la torre e scoprirne i segreti. Dopo 80 anni, l'armata di Uruk è riuscita a respingere i demoni ed ha costruito una città fortificata – Metz Kier, Meskia – al primo piano della torre.
Inizia così la storia di un guerriero di nome Jil che, trovando dei compagni lungo la strada, si imbarca nella ricerca del favoloso Blue Crystal Rod, un potente artefatto che si dice si trovi in cima alla torre di Druaga. Tuttavia altri concorrenti, compreso lo stesso Regno di Uruk, vogliono il tesoro, ciascuno per le proprie ragioni.
Anno: 2008
Produzione: GONZO
Numero Episodi: 12 + 1 alternativo
Traduzione e Adattamento: Spawn
Quality Check: alessiofr/GNN
Quality Check Addizionale e Styling: Vaz
Quality Check Addizionale e Timing: lachesis
Traduzione sigle: Okami
Karaoke: name
Raw hunting & encoding: GNN
Autorun: xiVi