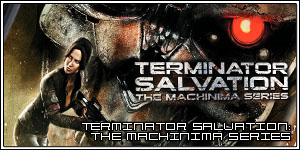 Terminator Salvation: The Machinima Series – SUB ITA
Terminator Salvation: the Machinima Series è il prequel in 6 puntate del film omonimo. Protagonista assoluta è Blair Williams, membro della Resistenza spedita dal Comando a individuare e distruggere il Ghost, un'entità misteriosa che sta causando gravi interferenze nelle comunicazioni. Grande sarà la sua sorpresa nello scoprire che non si tratta dell'ennesima arma progettata da Skynet…
Narrativamente parlando, questo prequel chiarisce un aspetto molto importante del film vero e proprio, ovvero l'origine del sistema di disturbo delle comunicazioni delle Macchine, che viene dato per acquisito e pronto per essere utilizzato da John Connor & C., senza che ne vengano spiegati origine e autore, cosa che avviene in questa serie machinima.
Anno: 2009
Produzione: The Halcyon Company
Numero Episodi: 6
STAFF
| | | | | | | | |
| --- | --- | --- | --- | --- | --- | --- | --- |
| Timing | Traduzione | Styling | Type | Karaoke | Check | Raw | Encode |
| | | | | | | | |
| Vaz | Vaz & GNN | Vaz | Vaz | | Vaz & GNN | Vaz | Vaz |